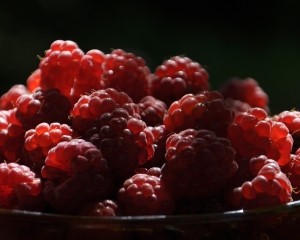 It's time to plan that drink for your next boat adventure. (This one's for those 21 or older). And what's better than raspberries to celebrate the time away from the office? What, you don't like raspberries? Sad. There'll be other drink options posted for you, I promise.
But for those of you who love raspberries like me, here's a drink called a Raspberry Sparkler you gotta try:
Mix 4 pints crushed raspberries, the juice from 4 lemons and 4 limes, 8 Tbsp honey and 4 handfuls fresh mint leaves together.
Fill your glass and add an ounce of gin.
Fill the rest of the way with vinho verde (a type of wine) and ice cubes.
(Recipe found at Domaine Home)
Oh, by the way, this recipe is for a party sized group. It serves 16. Par down if you're having a more intimate gathering.
For instance…
Ingredients:
1 lemon
1 lime
1 pint fresh raspberries
2 tablespoons honey
Handful of fresh mint leaves
4 ounces gin
4 cups vinho verde
(Smaller recipe found at Gardenista)
Now just sit back and enjoy the lake view until a glorious sunset fills the sky!