It's almost time for the IRONMAN Coeur d'Alene! Race day is August 21st. On top of all the other great activities in the area, (boating and swimming and water skiing and such) you can participate, or spectate, in one of the best-known races in the world!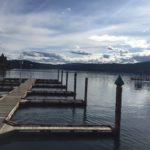 The day starts for competitors with a chilly wake up in Lake Coeur d'Alene. Yup, that amazing lake in the picture there. It's a 2.4-mile swim that leads into a 112-mile bike course. If that doesn't get the heart rate going, then the run finishes off the race along the shores of the lake. It's been called a world-class course that blends the beauty of the Inland Northwest with the challenge of a Triathlon.
And if you're really into this IRONMAN thing, this year's Coeur d'Alene IRONMAN offers 65 qualifying slots to the 2016 IRONMAN World Championship in Kailua-Kona, Hawaii. How great is that!?
For more information on this race or the IRONMAN tradition in general, stop by their website. You can spectate, participate, donate or in general, just be well informed about what's going on in the area.