(Image from Cobalt Site)
So we can't talk about carrying quality crafts without pointing out Cobalt. I mean, look at this beauty here: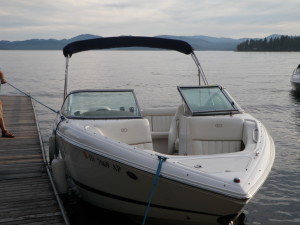 This is the Cobalt 202. As we've stated in our gallery, the fit and finish of this boat is second to none and it has an exceptionally smooth riding kevlar enforced extended plane hull that is perfect for larger lakes! (Coeur d'Alene, anyone?). This would be perfect for a day out.
Overall, Cobalt's known for it's quality. They say on their site that "Our Cobalt family believes we have a unique opportunity to enrich life, to help create memories for lifetime, to evoke passion for the boating lifestyle." And I'd say they succeed in fulfilling that opportunity. They balance hand craftsmanship with technology to bring every boater a sleek, smooth experience.
We're talking hand sown interior details and 100% hand laid hulls with Kevlar reinforcement right along side the use of 954 puffback gelcoat that resists fading and Electropolishing that protects components against corrosion. All that tech speak to say, the boats are durable and beautiful at the same time.
Cobalt also innovates with the safety of boaters in mind. (Always a plus!) For instance, they build in polished stainless steel tubing that wraps every platform to not only protect the boat, but to offer a waiting hand-hold for swimmers that's safely away from the boat's propeller.
Awesome! For more details about Cobalt and their constructions, hop on over to their site.