We added the Chaparral 22′ SSI Open Bow to our fleet last spring.
See, here's the beauty! (We like to show her off)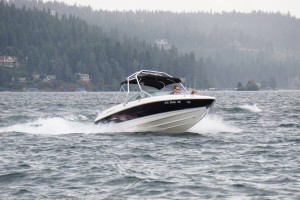 As they say on their web site, the "Chaparral has earned the prestigious NMMA CSI award for excellence in customer satisfaction nine years in a row, and we have won these awards for every category of boat we make."
They make a beautiful boat that has low speed stability due to their hull design. It extends the running surface. If you want to get technical, this makes the "v-plane" continue aft of the transom.
On the other end of things, they design in a forward keel that's made to cut through the water. This equals quick acceleration. Weeee! (Just make sure to return the boat in one piece, pretty please =)
Then, on the inside of the boat, they tend to put in all sorts of goodies for the day on the water. Everything from built in storage and coolers to wet bars and adjustable seating depending on the model of boat. Check it all out on their site.
Needless to say, we're thrilled to add the Chaparral to our fleet. We believe it upholds the standard of quality we strive for in our boat selection.