Boating season's not quite here yet but its fast approaching and its never too early to start planning that wonderful getaway on the water.
So here's a little tidbit to consider in your planning process to help make any vacation, or barbecue, just that much more awesome.
Bacon makes everything better, right! I've even tried bacon chocolate and, although it's an odd mixture to begin with, if you're looking for salty and sweet, it's perfect.
So when I stumbled across Bacon Wrapped Corn on Pinterest, I jumped with glee. What an awesome idea for a beach barbeque item.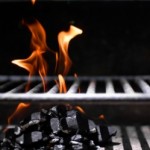 Here's how it works.
Get ears of corn and 2 strips of bacon per ear you want to make.
After shucking the corn, wrap the strips of bacon around it and sprinkle with a bit of pepper. Then wrap each ear in aluminum foil.
Throw the foil encased corn on the grill for twenty minutes, medium heat, and turn the corn every five minutes.
Once the twenty minutes is up, unwrap the foil and place the corn directly on the grill for another few minutes to crisp the bacon. (Careful, apparently it's easy to burn the bacon at this point.) Once crisped, your delicious treat is ready to enjoy.
Thanks to http://www.spendwithpennies.com for pinning this awesomeness. Stop by the site for pictures to salivate over=)