NEW! 2022 Air Nautique G25 - Surf/Wake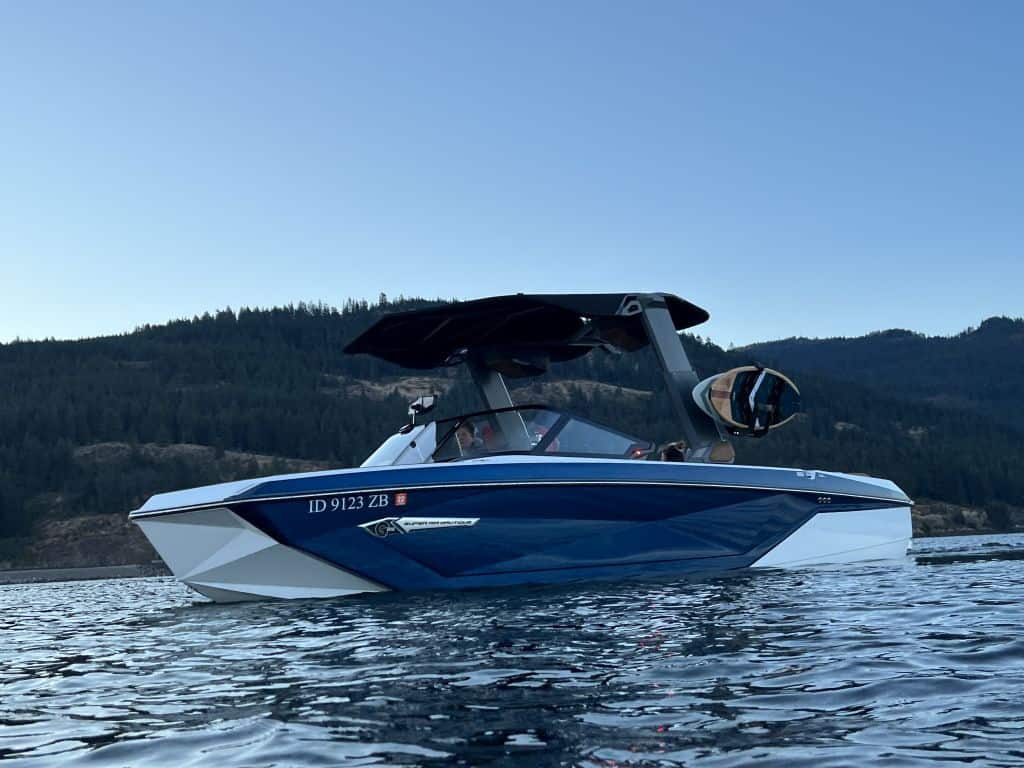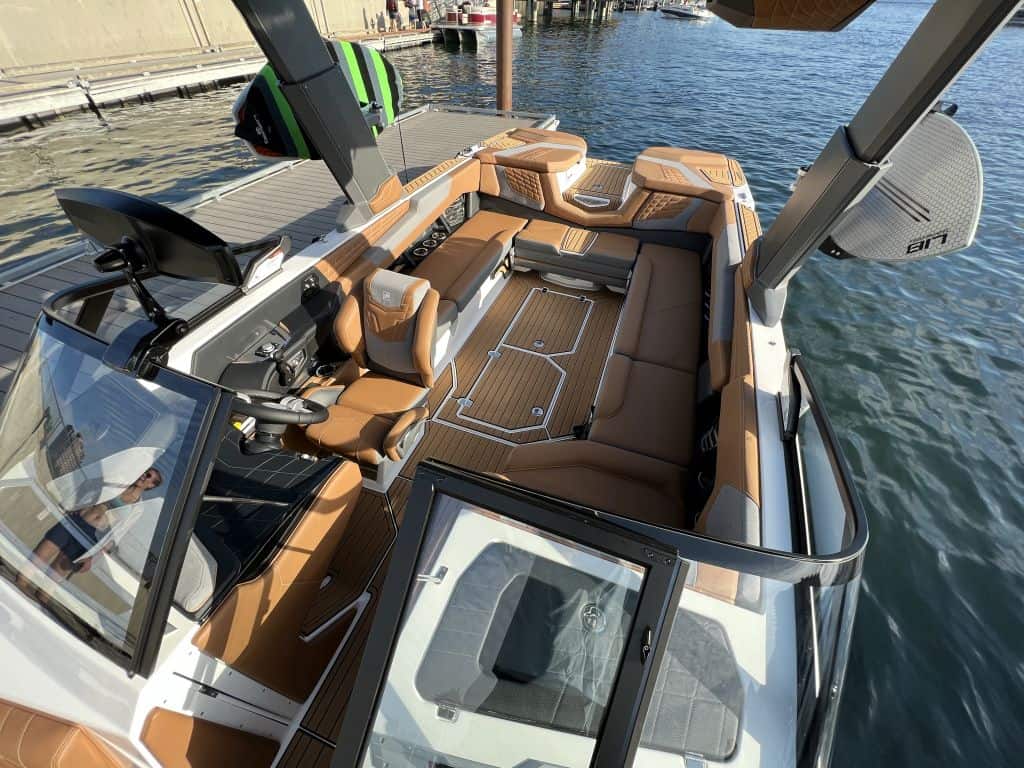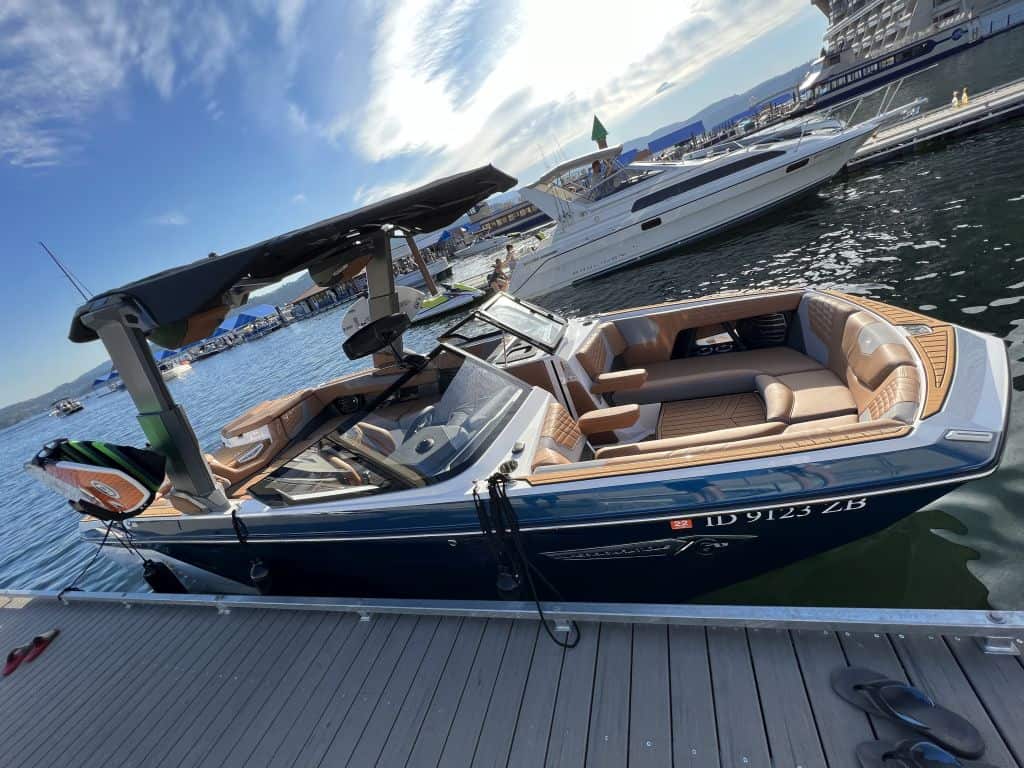 Once in a Life Time Surf Experience!!!
The ONLY redesigned Nautique G25 rental in the country!!
If you are looking for the best possible wake surfing or wake boarding experience in the Coeur d'Alene, Spokane, Hayden, and Priest Lake area, if not the world, look no further. There isn't a higher quality line of surf boats out there than a Nautique and this is their new and improved redesign of the industry leading flagship Super Air G25 line.
The fit, finish, and features of this rental Super Air Nautique G25 is jaw dropping. This boat can't be matched by any other boat rental company in the region, let alone in the United States.  If a Benetti and a Ferrari had a trist in Monaco, the resulting offspring would look like this G25… Auto integrated docking thrusters make tight maneuvering a breeze, 12 speakers plus two 12 inch subs, under water lights, huge touch screen, GPS, easy auto wake presets, seating for 19, sub floor ballast, integrated cooler, the list goes on…. This will truly make your summer vacation a memorable one!
** We were so impressed by our 2021 G25, that we custom ordered a NEW Super Air Nautique G25 with some added features such as the Paragon style tower with updated tower speakers, an additional 1,450 lbs of subfloor ballast, and a completely redesigned user interface to make operation even easier.  **
 *** RESERVATION SLOTS WILL BE LIMITED ON THIS BOAT & NO PETS ***
Brand new 2022 25′ Super Air Nautique G25 Wake Surf boat
Fully redesigned hull and surf system over previous model years!
Massive Direct Injected 450HP  6.2 Liter v8 for plenty of power and reliability
Seats 19 adults comfortably
Integrated stern thruster (makes for easy docking)
3,650 lbs of adjustable in floor ballast means not giving up ANY storage space!
PREMIUM Interior
Nautique's patented NSS Hydraulic Surf system gives you a perfect wake, every time!
Perfect Pass (Cruise control for surfing and wakeboarding)
HUGE touch screen dash with rear view camera!
Huge extended swim platform
Walk through sundeck
Heated Seats for passenger and driver
Cockpit heaters
Adjustable rear-facing bench
PREMIUM JBL Stereo with 12 speakers, AMPs. plus DUAL 12 inch SUBs!
Wireless Phone charging
Wakeboard tower with snag free swivel racks
Interior and under water RGB adjustable lighting
In floor storage for cooler
Bimini shade
Incredible amount of storage space.
The list goes on!
EXTREMELY smooth on choppy lakes
FREE Coeur d'Alene Delivery!!
Our mission: To make your vacation experience as simple as possible, so all rentals include the following at NO EXTRA CHARGE: Neoprene life vests to fit everyone in your group – FREE tube with tow rope and electric air pump – FREE Wakeboard / Surf boards with tow ropes
Nautique G25 – Wake Surf Boat Rental Orientation
We know your time is important and would love to make your wake surf boat rental experience be the best it possibly can be. We also know that wake surf boats can seem a little overwhelming with all the surf settings and touch screen controls. To help make this easier for beginners and advanced operators alike, we've taken a couple different approaches.
First and foremost is boat selection, that's key to a positive experience on the water. We've spent extensive time in a variety of other brands like Moomba, Supra, and Mastercraft over the years and have found Nautiques just overall provide a simpler and more positive experience. Some surf boats ride high in the bow, obscuring the drivers view, other are VERY sensitive to weight distribution of passengers, so you have to spend your afternoon moving people around the boat between sets, most others have ballast bags in all your storage locations so you can't fit gear anywhere, where a Nautique just has a huge, clean curling wave in pretty much any scenario with a ton of amenities and storage space thanks to sub floor ballast. (I have five kids, believe me, space is EVERYTHING.)
For these reasons we only provide Nautique surf / wakeboard boats in our Coeur d'Alene and Spokane area rental fleet. Nautiques are proven to have the easiest to setup waves, and easiest to navigate helm controls in the industry. All boats are pre-loaded with custom user profiles for standard and goofy surfers, as well as profiles for beginner through advanced wake boarders. It really is as easy as a twist of a dial and a click of a button. This means more time on a surf or wake board and less time fiddling with settings.
The second thing we've done to help make your day on the lake more enjoyable is to include videos and links below to boat specific training videos, and surfing tips. We hope this will help get you up to speed on your boat's operation prior to showing up to the launch, saving time at checkout and getting you on the water quicker. Please take the time to give them a watch!
Nautique G25 – Walkthrough
(Touchscreen instructions start at 10:30)

Nautique G25 – Steering Assist / Truster How-To
Nautique – Docking Tips and Tricks (Great info with or without thrusters!)
* To streamline scheduling, 1 and 2 day boat rentals MAY be limited to 7 days or less advance booking notice during peak weeks such as July 4th. This gives "longer stay" renters the ability to book consecutive dates more easily for their week long vacations. Note that this is a general rule, so please don't hesitate to contact us with specific questions regarding your boat rental dates. Typically there won't be an issue locking you in well in advance. *
** Multi day rentals will require a safe overnight location to moor the boat. **
* To streamline scheduling, 1 and 2 day boat rentals MAY be limited to 14 days or less advance booking notice during peak weeks such as July 4th. This gives "longer stay" renters the ability to book consecutive dates more easily for their week long vacations. Note that this is a general rule, so please don't hesitate to contact us with specific questions regarding your boat rental dates. Typically there won't be an issue locking you in well in advance. *
** Multi day rentals will require a safe overnight location to moor the boat. **